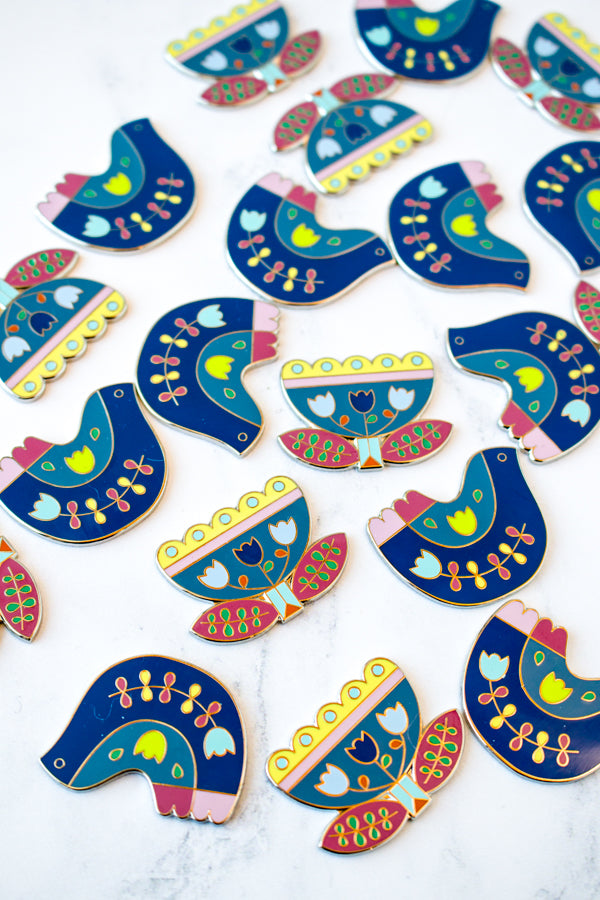 New needle minders added to our collection
If you are like me, you have become a bit obsessed with needle minders. These handy little devices are a great way to keep track of your needles while you are stitching. They are also adorable!
Our new folk art tulip and bird needle minders will be colorful and sweet additions to your collection. They are made of smooth enamel with a polished silver plating. The designs were inspired by our bamboo thread organizer and scissor fob shapes.
To use a needle minder, but the enamel side on top of the fabric in your hoop, with the magnet on the back. The magnet is strong enough that your needle will stick to the enamel side when you're not using it. You can see a video of how to use a needle minder at our sister site Stitched Modern.
Whether you are a cross stitcher, embroiderer or other needleworker, needle minders are a great tool to have, and this colorful pair will make you smile every time you pull out your hoop.
Get your own needle minder in the Red Gate Stitchery Etsy shop or at your favorite local fabric, yarn, or needlework shop.