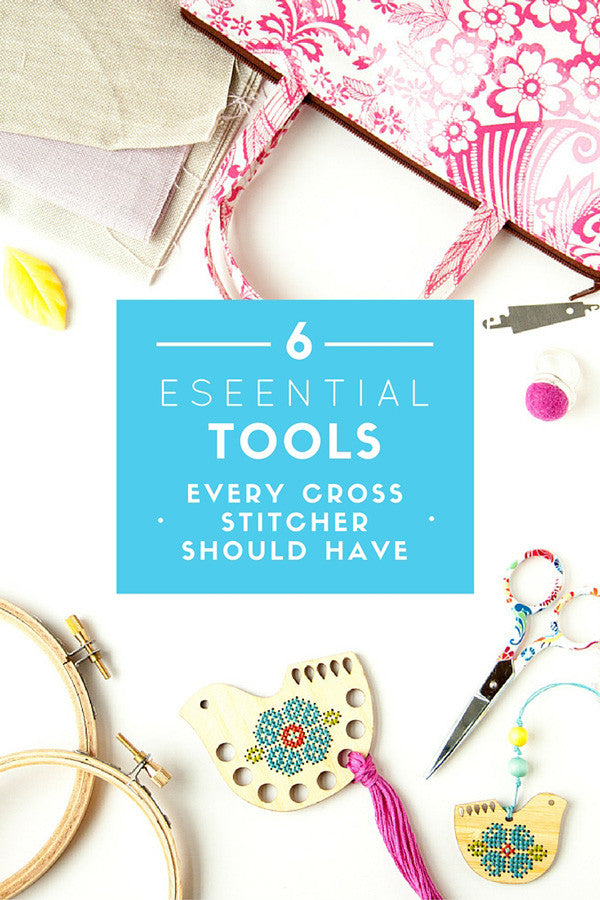 6 essential tools for cross stitch and embroidery
You've picked a pattern you love, gathered your floss, prepared your fabric, and brewed a nice cup of tea. You're ready to stitch! Or are you? When you're sitting down for your next stitch session, make sure you have these essential tools close at hand.
1. Good embroidery scissors
This is not the time to use that old rusty pair of scissors you keep in your junk drawer. Cross stitch and embroidery require precision snipping, so it's worth it to invest in a good pair of embroidery scissors. They should be sharp and small for easy maneuvering, and for the love of Pete, please don't use them for anything except embroidery. You can decorate your favorite scissors with a fun scissor fob that will make you smile every time you see it.
(Scissors by Gingher | Scissor fob by Red Gate Stitchery)
2. A needle threader
Cross stitch and embroidery needles can be tiny, and sometimes you need a little help to get them threaded. There are lots of different kinds of threaders, but I like the one-piece metal kind.
(Needle threader by LoRan)
3. A needle minder or pin cushion
When changing thread and doing other work, you will frequently need a place to park your needle. I used to use the cushions on my couch to hold my needle, but as you might imagine, that didn't end well. I love a pincushion ring to keep my needle close at hand (pun!), but magnetic needle minders or even a pin cushion work just as well.
(Pincushion ring by Red Gate Stitchery)
4. Thread conditioner or beeswax
Sure you could just thread your needle and go, but taking a few moments to condition your thread before you start stitching will give you even better results. Running your thread through a thread conditioner like Thread Heaven or a lump of beeswax will help it pull more smoothly through the fabric and will make the stitches neater. It also protects against fraying and tangling, which will make you a happier stitcher in the long run. Learn
how to use thread conditioner here
.
(Beeswax by Noteworthy Needle)
5. Thread organizer
When you're in the middle of a stitching project, you need a way to keep your thread neat and tidy. A thread organizer (also called a thread keep or thread minder or thread palette) is a great option. You can cut all your thread to length in advance and then loop it through the holes on the thread palette so it's ready to go when you need it. A bamboo thread organizer is a great option because you can use over and over, but you can also simply punch holes in a piece of thick cardstock or carboard for a quick and easy solution.
(Thread organizer by Red Gate Stitchery)
6. A cute bag to keep it all in!
Cross stitch and embroidery are great on-the-go projects, so you will need a great bag to contain your stitching and all your supplies. I tend to use a
pouch-style bag
that is easy to slip into my purse, and I have them in various sizes to accommodate projects both big and small.
(Project bag by Chic-a)