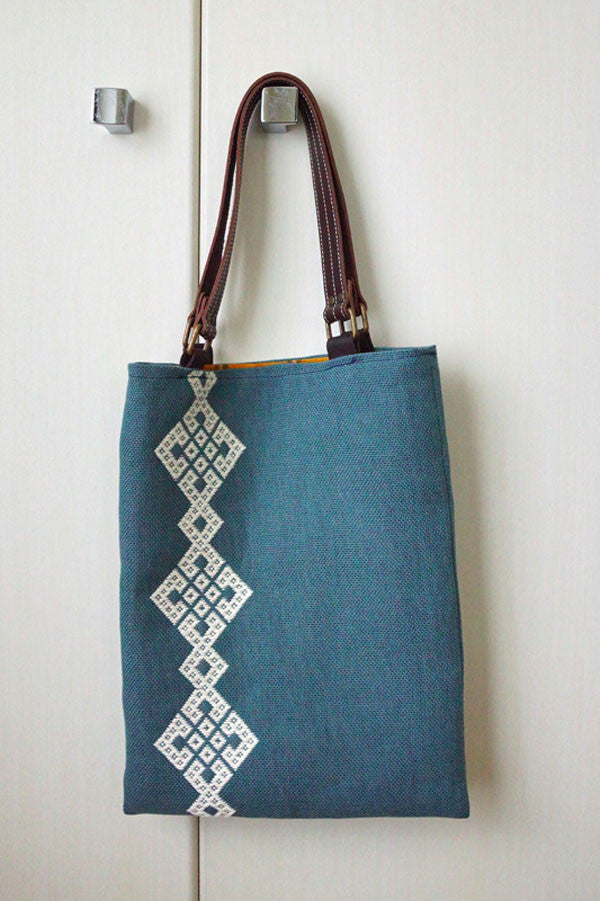 Kogin embroidery
(Photo above by Roro's Kogin Diary)
When podcaster and author Abby Glassenberg invites guests onto her While She Naps podcast, she asks them to list three things that inspire them. If you listened to my session with Abby last week, you heard me mention Kogin embroidery from Japan.
Kogin originated in the Honshu province of northern Japan. It is a form of pattern darning that was designed to add bulk (and therefore warmth) to clothing.
Kogin patterns are comprised of straight stitches, similar to the much better known sashiko, but with a few key differences. Unlike sashiko, Kogin is often done on evenweave fabric like Aida or linen, the same kind of fabric you might use for cross stitch. The straight stitches can be of varying length and are arranged to form symmetrical motifs and repeating patterns.
Kogin was historically done with white thread on indigo fabric. Most modern Kogin examples I have seen are similarly monochrome, but with a wide range of colors on various ground fabrics.
Here are some Kogin samples I love. For more, follow my straight stitch embroidery board on Pinterest.
Kogin stitching (via @s.asako16)
Kogin pot holders (via @pancakepanpan)
Kogin barettes (via @pugnusmile)
Kogin card case (via happyrock.jp)
Kogin pot holder (via happylife-taeco.blogspot.com)
Kogin buttons (via iwaki-ensoku.blogspot.com)