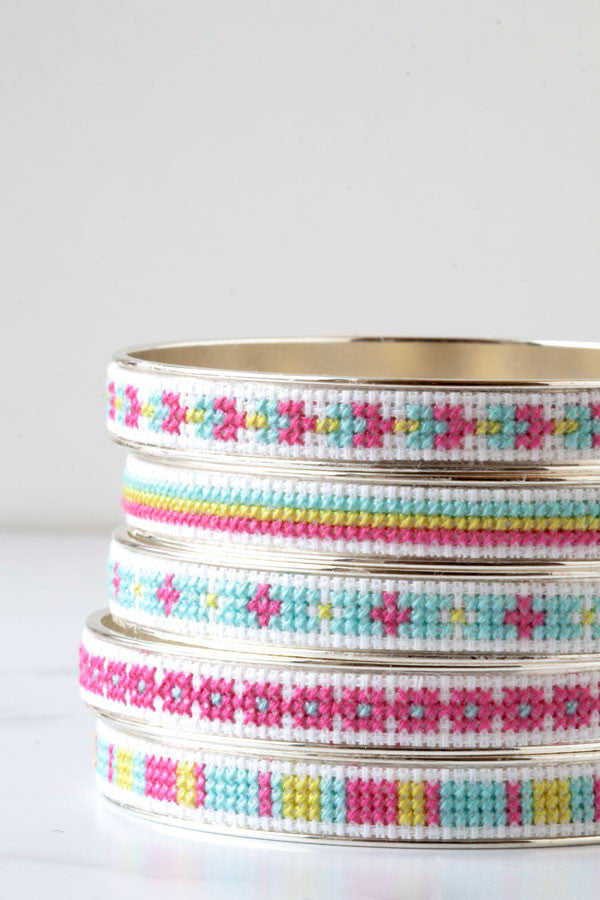 New cross stitch bangle bracelet kits in yummy colors
I am over the moon about these new bracelets! The stitching is done on a strip of Aida fabric which is then affixed to a sterling-silver bracelet base for a beautiful and polished finish. It's so easy to do, and our kits include all the essentials, including step-by-step instructions.
The bracelet comes in two pretty and summery colorways. We call one Raspberry (pink, lime, and aqua) and the other Blueberry (navy, pink and aqua). Both work perfectly with breezy summer wardrobes.
Each kit makes one bracelet, but there are five stitching charts included, so when you go to stitch you can pick your favorite pattern. You're going to want to make more than one, and they do look ever so pretty in a stack!
You can find the bracelet kits at your local yarn/fabric/needlework shop, or online at our sister site Stitched Modern.