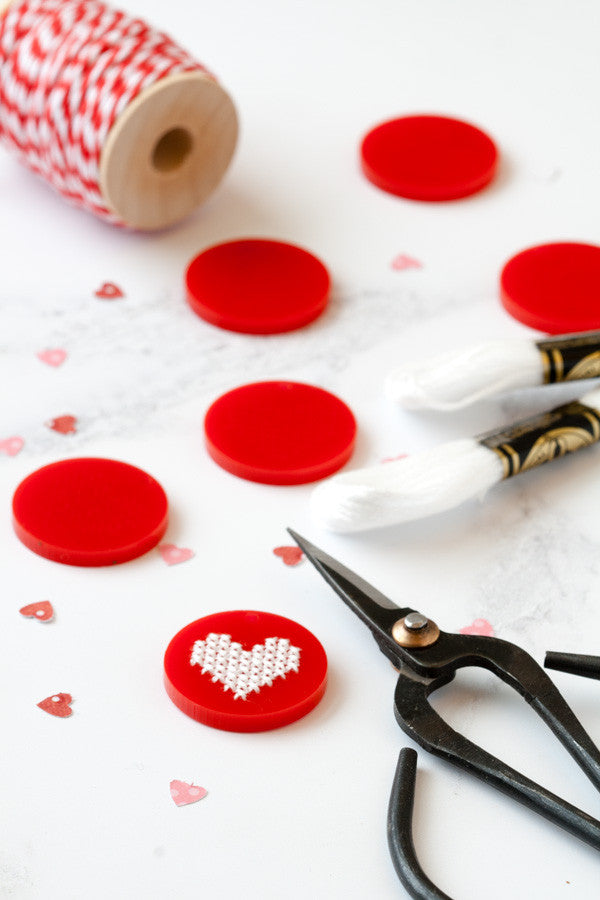 Valentine's stitching for a crowd
Who says you can't cross stitch for a crowd this Valentine's Day? Red Gate Stitchery acrylic heart pendants are now available in multi packs! Stitch one for yourself, and still have plenty left for all your friends. The pendants come in fun acrylic colors - red, purple, and blue - and feature a classic cross stitch heart motif that is perfect for Valentine's Day and beyond.
The acrylic pendants are super versatile. Hang one on a chain for a sweet necklace. Tie one to a mason jar for the perfect gift topper. Or affix a sturdy clip for a handmade tag for a backpack, purse, or your favorite pair of scissors.
Each acrylic pendant is approximately 1 inch in diameter, and a pack comes with 6 pendants. The stitched heart motif is perfect for beginners, and easy-to-follow instructions are included. Optionally, you can have jump rings attached to the pendants along with necklace chains or bag clips.
Time to host a stitching party! Get your multi packs today in the Red Gate Stitchery shop. Happy stitching! -Susan