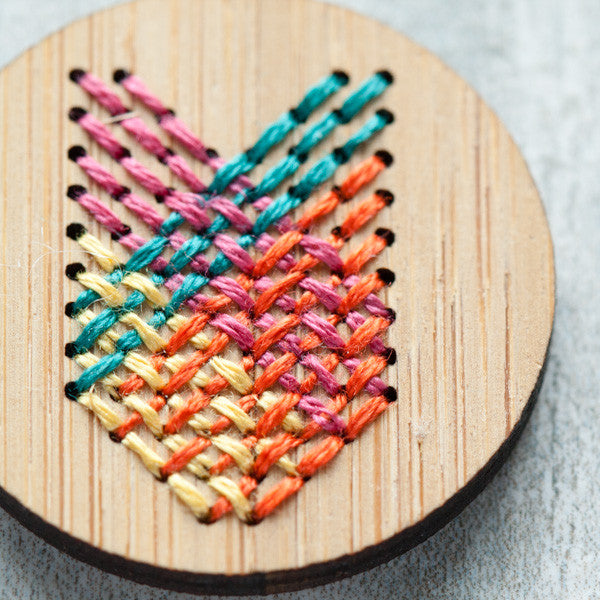 In the studio this week: Comfort zones
I love January. I love it for the sense of renewal, the heightened creative energy, the clarity of purpose. I love it for the planning. Oh the planning! There has been much of it happening this month, and I am excited to share it all in due course. It is going to be a big year for Red Gate Stitchery and I am thrilled to have you along for the ride.

To prepare for all the excitement ahead, I have been spending much of my month cleaning and organizing my studio. As dull as it may sound, I have enjoyed it. It feels good to sort and tidy and it feels even better to discard (or donate) that which is no longer needed. I have also enjoyed the little surprises that happen while tidying, like coming across this stitching experiment I did a while ago.


I was challenging myself to use a familiar form (my chevron pendant) in an unfamiliar way. Instead of stitching it with my standard cross stitch, I used an oblong cross stitch with a tie across the middle. The pendant in the foreground uses a neutral thread for the cross stitches with ties of different colors, and the one in the background is just the reverse.

I did another version where I played around with needle weaving.




I love this experiment. I can get so comfortable with my standard cross stitch repertoire that I forget there is a whole world of stitches out there. It's a reminder that beautiful things can happen when we get out of our comfort zones. A lesson for January and beyond.

Happy stitching to you all! -Susan