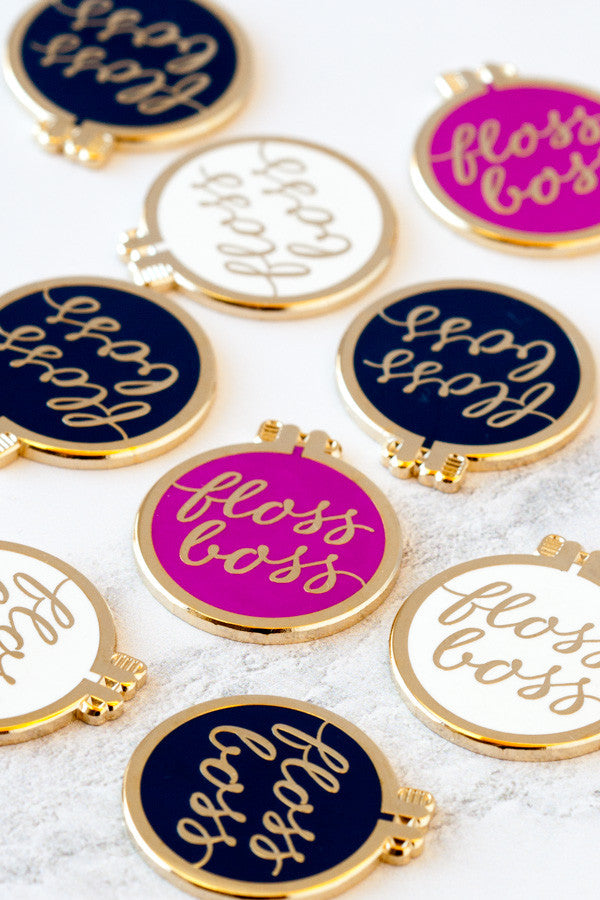 Calling all Floss Bosses! New enamel pins and needle minders
If you love cross stitch and embroidery, you my friend, are a Floss Boss! Now you can own the title and advertise it to the world with these fun new enamel pins and needle minders.
Available in navy, pink, and white, the smooth enamel pins have a straight back with a butterfly clutch that can be pinned on your lapel, project bag, purse, backpack, or anywhere you want to express you love of stitching.
There is also a version with a magnet back that can be used as a needle minder, a handy tool for keeping your needle safe (and out of your couch cushions) when you're stitching. Put the enamel side on top of the fabric in your hoop, with the magnet on the back. The magnet is strong enough that your needle will stick to the enamel side when you're not using it.
Of course, you can't be a Floss Boss without floss, so pair your pin with a coordinating ombre floss skein! These adorable mini skein enamel pins come in blue and pink.
All enamel pin and needle minder styles are available now in the Red Gate Stitchery shop!