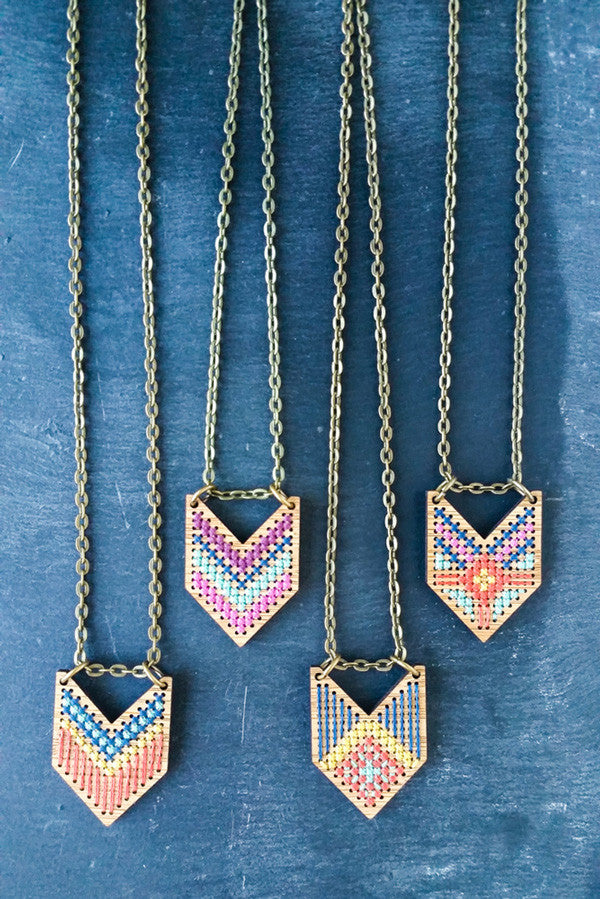 The making of a pendant
Designing new pieces is one of my favorite things to do. Sometimes a design starts with a stitched motif that I want to translate into jewelry. Other times, the basic shape of the piece comes first and stitching comes later. Such was the case with my new pendant design.
I knew I wanted to create something chevron shaped, so I took to my sketchbook and played around with different shapes and the general look. I refined it in Adobe Illustrator and placed holes for stitching in an arrangement that made sense, but I still did not have a specific idea for what the final stitching would be.
Only after the piece was cut did I start planning out the stitching. I experimented with different color palettes, various kinds of stitches, and stitch placement. There was lots of stitching: some successful, some not so much. The best of the bunch make it into the final kit.
In the end I came up with four designs I really liked and those ones are in the kit, but as with all of my designs, there are endless opportunities to customize. Change up the stitches, change up the colors, it's entirely up to you!
You can see the new design in my shop here. Happy stitching!